As a parent, you understand that conditions affecting your child's kidney, bladder, or reproductive health are not just the standard childhood illnesses. These conditions can affect your child's life into adulthood. At WVU Medicine Children's, we know you want the best care available for your child.
Your child will receive compassionate, advanced care for urological conditions affecting the:
Adrenal glands
Bladder
External and internal genitalia
Kidneys
Pelvic floor
Ureter
Urethra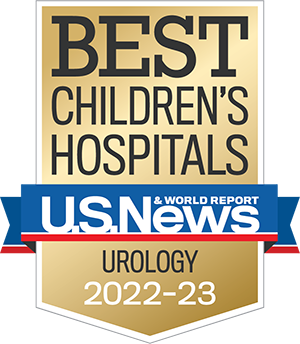 Pediatric Urology at WVU Medicine Children's is the only pediatric urology practice in West Virginia. We treat patients from infancy to age 18. Our experienced fellowship-trained doctors and medical professionals are recognized by U.S. News & World Report.
Conditions We Treat
Our specialists provide treatment for conditions such as:
Hydrocele – common in newborns and occurs when there is swelling in the scrotum caused by fluid that collects in the thin sheath surrounding a testicle
Hypospadias — the urethra opens on the underside of the penis instead of the tip
Kidney and bladder cancer
Kidney and bladder infections
Kidney and bladder stones
Neurogenic bladder — uncontrolled bladder from neurological conditions like spina bifida
Posterior urethral valve — blockage affecting newborn boys
Prenatal hydronephrosis — kidney swelling from urine build-up
Undescended testicles
Ureteropelvic junction obstruction — partial kidney blockage
Urinary tract infections
Vesicoureteral reflux (VUR) — urine flows backward from the bladder to the kidneys
Treatments and Services
We offer comprehensive, minimally invasive, robotic, and open surgical treatment options that ensure your child has the best outcome. Procedures include:
Minimally invasive surgery
These minimally invasive or non-invasive therapies treat kidney stones:
Extracorporeal shock wave lithotripsy — uses sound waves to treat kidney stones
Ureterorenoscopy with holmium laser lithotripsy — uses a laser to remove urinary tract stones
Percutaneous nephrolithotomy — uses a small telescope to remove large kidney stones through the patient's back
Microscopic varicocelectomy — treats enlarged scrotal veins
Deflux injection for VUR implants — an alternative to open surgery that uses a gel called deflux to prevent backward flow of urine to the kidneys
Robotic and laparoscopic surgery
We use da Vinci robotic-assisted surgery or laparoscopic surgery, which uses small incisions, in place of open surgery whenever possible, to reduce pain and shorten hospital stays for these procedures:
Appendicovesicostomy — Mitrofanoff surgery, uses the appendix as a bridge to the bladder
Malone antegrade continence enema — facilitates fecal evacuation
Nephrectomy — kidney removal
Orchidopexy — moves an undescended testicle into the scrotum
Pyeloplasty — partial kidney reconstruction
Ureteral reimplantation — reconnects a ureter tube to the bladder
Varicocelectomy — restores proper blood flow to reproductive organs
Open surgery
Some conditions may require open surgery to ensure the best result. These include:
Bladder augmentation to reduce bladder pressure and leakage
Genital and urinary organ reconstruction
Hydrocelectomy (removal of a fluid-filled sac in the scrotum)
Hypospadias to correct an abnormal urethra opening
Orchiopexy to move an undescended testicle into the scrotum
Meatoplasty to enlarge the penis opening
Pyeloplasty to reconstruct of part of the kidney
Outpatient and educational clinics
We offer outpatient and educational clinics at various times and locations:
General pediatric urology clinic — 8 am-3:30 pm Tuesdays and Thursdays
Dysfunctional voiding and bedwetting clinic — Fridays
Spina bifida clinic — fourth Monday of each month
Metabolic disorder/stone clinic (with nephrology) — Tuesdays and Thursdays
Outreach/satellite clinic in Wheeling Hospital — second Friday of each month
Prenatal/fetal urology counseling
Telemedicine clinic — Mondays and Thursdays
After-hours clinic — 4-7 pm last Tuesday of each month
Disorder of sexual development clinic (with endocrinology)
Resources
These resources can help you and your child learn more about urological conditions:
Healthy Children - Learn what a pediatric urologist does.
MedlinePlus - Find information on children's urological conditions from the U.S. National Library of Medicine.