If you're feeling overwhelmed after your child's diagnosis of cleft lip or cleft palate, know that you're not alone. At WVU Medicine Children's Cleft and Craniofacial Center, we have a team of experts who focus on the unique needs of children born with these conditions. Our American Cleft Palate Association-accredited team will help you and your child through every phase of cleft lip and cleft palate repair.
We offer surgical correction of the cleft, as well as emotional and moral support. We address the related challenges associated with cleft lip and cleft palate, including speech, hearing, and dental problems.
Your child is in expert hands throughout the cleft lip and cleft palate treatment process. They will be cared for by specialists, including:
Audiologists
Clinical psychologists
Complex care pediatricians
Oral and maxillofacial surgeons
Otolaryngologists (ear, nose, and throat)
Pediatric dentists and orthodontists
Pediatric plastic surgeons
Social workers
Speech language pathologists
Pediatric psychologists
Genetics
Understanding Cleft Lip and Cleft Palate
A 'cleft' is an opening or split in the roof of the mouth or the upper lip. It occurs when these body parts don't fuse properly during development in the womb. A cleft lip mainly causes a cosmetic facial difference that can be repaired. The palate separates the mouth (oral cavity) and the nose (nasal cavity). This prevents liquid from coming out of the nose when drinking or air escaping out of nose when speaking.
While the condition can genetically run in families, the vast majority of children born with cleft lip and/or cleft palate did not inherit it. Some children only have a cleft lip or cleft palate. Others have both.
While nobody knows the exact cause of a cleft, children with mothers who had infections, nutritional deficiencies and/or smoked during pregnancy may be at a higher risk. However, many clefts are from healthy pregnancies and is rather common. There are, however, instances where children with cleft lip and/or cleft palate have other health conditions, so it's important to have a care team who can diagnose and treat your whole child.
Conditions We Treat
A cleft lip and cleft palate can be repaired with surgery. However, there can be complications caused by the cleft that need to be addressed by experts. We monitor every aspect of your child's development. We want to make sure they're growing and thriving at every stage of their treatment.
The most common complications of a cleft include:
Dental problems – Some children have problems with their teeth. They can have cavities, missing teeth, or dental and jaw malalignment. Pediatric dentists provide comprehensive oral care and orthodontists may do dental realignment before the first reconstructive surgery. This helps the surgeon perform a more accurate repair.
Hearing loss and ear infections – The muscles affected by a cleft palate are involved with tubes (Eustachian Tubes) that allow you to clear or drain your ears. When these don't work properly, fluid can build up in the middle ear. This can affect hearing and cause ear infections. Audiologists and otolaryngologists monitor hearing and ear health. It is common to need ear tubes with a cleft palate.
Feeding trouble – Breastfeeding problems are common in children with cleft palate. Your baby may not be able to suck properly because the roof of the mouth is not formed completely. Our feeding specialists work with the mother and baby to establish the best feeding strategy. It is common for a baby with a cleft palate to need a special type of bottle which you will receive from our team.
Psychological concerns – Pediatric psychologists meet with the family throughout the treatment process. Children who have cleft lip and palate are given extra support for self-esteem, identity development, social skills, managing medical procedures, and transitioning into adolescence.
Speech and language delay – Muscles involved with speech may not work well. This can lead to a delay in speech or speech impairments. Your child will see speech therapists before and after each reconstructive surgery.
Having a child with cleft lip and cleft palate affects parents, too. Our team meets regularly with parents, caregivers, and siblings. We help them cope with medical procedures and guide them in building family relationships and supporting each other.
Treatments and Services
The repair of a cleft lip or palate is a process. Each phase of treatment builds on the treatment before. We monitor your child's progress continually. We address complications if they arise and keep you informed at every stage.
0 to 2 Years
Treatment usually beings with some form of nonsurgical molding. This is either nasoalveolar molding (NAM) or lip taping in the first few weeks after birth. This treatment uses tape or a dental plate to reduce the size of the cleft by bringing together the two sections of skin and muscle. This can be a helpful tool in cleft care but is not absolutely necessary.
During this period, we also closely monitor your child's weight gain to make sure they are ready for surgery.
Typically, children with cleft lip will usually have this repaired around five to six months of age. A second repair surgery for the cleft palate will usually be performed between 10 and 12 months of age before speech begins. There are some circumstances where this repair needs to be delayed a few months.
It is common for children with cleft palate to have a procedure to insert ear tubes in the middle ear. These tubes help drain fluid to improve hearing and prevent infection.
Children and families should establish a dental home with a pediatric dentist by the end of the first year. This ensures children get complete oral care throughout their cleft lip and palate treatment. Good dental hygiene is critical in the treatment of cleft.
3 to 7 Years
A speech therapist will closely monitor your child's development to spot signs of impairment. Regular checkups with a pediatric dentist can help address common dental problems, such as missing teeth, extra teeth, or cavities.
If the pharynx (tissue at back of mouth) does not close properly, a child may continue having speech problems after palate repair. Another speech surgery may be needed. A palatal lengthening, pharyngoplasty or a pharyngeal flap procedure is a procedure that can improve the function of the pharynx. Only about 10 to 15 percent of children need this speech surgery.
4 to 6 Years
Some patients may need minor surgery to improve the alignment of the lip lines. The shape of the nose can also be improved with surgery.
If a child continues having speech problems after palate repair, another surgery may be needed. A pharyngoplasty or a pharyngeal flap procedure is a procedure that can improve the function of the pharynx, which is the tissue at the back of the mouth. Only about 10 to 15 percent of children need this speech surgery.
7 to 10 Years
Some children will need an alveolar bone graft. The alveolar bone is the bone under the gums where the teeth are attached and can also have a cleft (gap). A bone graft, usually taken from the child's hip, can close this gap and provide bone for the adult teeth to go in this space.
Later Teenage Years and Young Adulthood
Children born with cleft palate will sometimes develop a misaligned jaw where the lower jaw protrudes out further than the upper jaw (called an underbite). The team may recommend a surgery to help re-align the jaw. This might be a two-stage surgery called distraction osteogenesis for big differences or a one stage surgery called orthognathic surgery (jaw surgery) for smaller differences.
Some children will need a rhinoplasty, or nose repair surgery, to correct the appearance, alignment, and air flow of the nose.
At any time during your child's treatment plan, we may be able to perform small revision surgeries or "touch ups" to help improve self-confidence and esteem.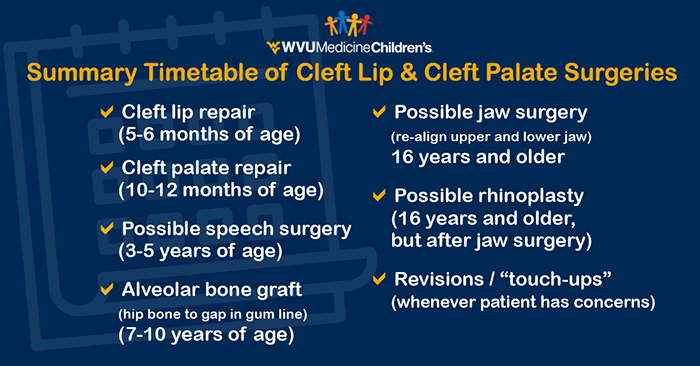 Resources
Learn more about the other specialty programs within WVU Medicine Children's Cleft and Craniofacial Center:
We are approved by the American Cleft Palate-Craniofacial Association (ACPA). This makes us uniquely qualified to deliver the highest quality care to your little one. Learn more at Cleftline.org.
For more information and resources about cleft and craniofacial conditions, visit any of the following sites: