If you have a child with a craniofacial condition, you may feel overwhelmed by the diagnosis. You likely have questions about treatment, recovery, and what types of challenges your child might face as they grow up. At WVU Medicine Children's, we are here to answer those questions and guide you through every stage of your child's care.
As part of the WVU Children's Hospital Cleft and Craniofacial Center, our Craniofacial Program is dedicated to the special needs of infants and children with conditions of the head and face. We are the only craniofacial team in West Virginia approved by the American Cleft Palate-Craniofacial Association (ACPA). This designates we are uniquely qualified to deliver the highest quality care to your little one and children throughout the region.
We make it easy for every child to get the care they need without going to multiple clinics. We treat craniofacial conditions, as well as any related problems such as vision issues or developmental delay. Our team includes a range of experts under one roof including neurosurgeons, specialty trained plastic and reconstructive surgeons, oculoplastic surgeons, ENT specialists, pediatric dental and maxillofacial surgeons, orthodontists, dermatologists, complex care pediatricians, geneticists, and neurodevelopmental specialists including pediatric neurologists, speech therapists, and audiologists.
Our goal is to provide compassionate guidance and support, as well as the very best treatment. We help you and your child navigate the many challenges of craniofacial treatment and recovery. If you are in need of additional support, we have social workers and behavioral health therapists on staff to connect you with helpful resources.
Conditions We Treat
Most craniofacial anomalies are congenital, which means they're present at birth. However, we can also detect some diagnoses in a baby's skull and face before they are even born. This allows us to make a treatment plan for your child as early as possible.
The conditions we treat include:
Craniofacial dysostosis syndromes:

Apert
Crouzon
Muenke
Pfeiffer
Saethre-Chotzen

Craniosynostosis
Ear deformities
Encephalocele
Facial injuries and trauma
Fibrous dysplasia and skull masses
Hemifacial microsomia
Hypertelorism (craniofrontonasal dysplasia)
Nasal deformities
Oculoauricular vertebral spectrum (Goldenhar syndrome)
Orthognathic/jaw anomalies (Pierre Robin syndrome)
Plagiocephaly (flat head syndrome)
Treacher Collins syndrome
Understanding Craniosynostosis
Craniosynostosis is one of the most common conditions we see at our clinic. The condition occurs when the plates of a baby's skull fuse together too early, while the baby is still in the womb. The fused plates can prevent the baby's skull and brain from developing normally, which results in a misshapen head. If the condition isn't treated early on, the child can even have developmental delays or issues with brain growth.
If we're concerned that your child has craniosynostosis, a pediatric craniofacial plastic surgeon and a pediatric neurosurgeon will evaluate them and form a treatment plan. We also perform thorough evaluations to find out what effects the craniosynostosis may have on your child's development. This might include looking at hand-eye coordination or how they express emotion.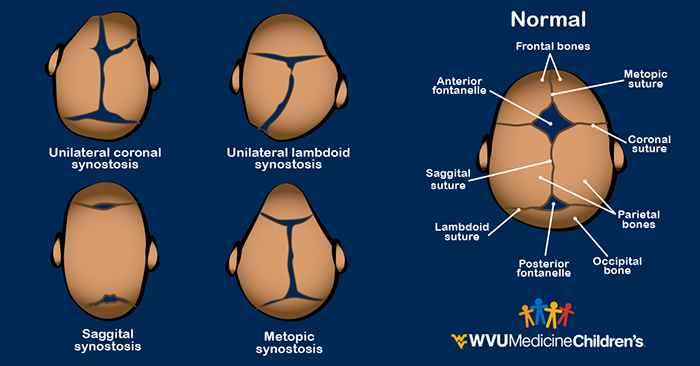 Craniosynostosis Surgery
Craniosynostosis is treated with surgery. Typically, we do this surgery within their first year. During this time, a baby's skull is softer and can be reshaped more easily.
A cranial reconstruction is the most common treatment for craniosynostosis. In this procedure, we reshape the section of the skull that didn't form properly. Some children from two to four months of age could be candidates for a minimally invasive craniectomy. This procedure uses smaller incisions, which means there is less trauma to the skull and surrounding tissues. After a minimally invasive craniectomy, your child will likely also require additional care with a cranial spring or a cranial band.
Our team monitors the growth and development of your child's skull and brain throughout their childhood. If we detect any complications with your child's vision, speech, or facial bone development, we will connect you with the right care. Our specialists stay in close communication with parents and primary care pediatricians at every stage. This ensures your child gets consistent, ongoing care.
Craniofacial Trauma
In addition to congenital conditions, we also treat craniofacial trauma. If your child sustains an injury such as a face or skull fracture, you can rest assured we have the right specialists on hand to deliver fast, effective treatment. We take every precaution to prevent head, face, or dental injuries from impacting your child's normal growth and development.
As part of WVU Medicine Children's, our craniofacial team has access to the best pediatric trauma care services in the state. Our surgeons work with the pediatric critical care teams, pediatric anesthesiologists, neuroradiologists, and pediatric sedation specialists to make sure your child gets comprehensive care. WVU Medicine Children's has a Level IV Neonatal Intensive Care Unit, a Level I Pediatric Intensive Care Unit, and critical care transport services.
Resources
The Craniofacial Program at WVU Medicine Children's is part of the Cleft and Craniofacial Center. This Center brings together several programs for children with anomalies of the face, skull, neck, mouth, nose, and jaw. Our multidisciplinary team approach helps children get total care all under one roof. Learn more about our programs:
For additional information and resources, visit any of the following sites: